It has been forever since my last update, as this is my first posting. Welcome to the new website. If you made it this far your doing good and this blog is your reward. So sit back and be treated to the exciting update that is about to be placed before you… Its 4 AM and I felt an overwhelming need to hop on the new Blog and attack this first posting with all my might. The last 4 months have been a whirlwind with my efforts to revamp the bike shop. My desire to ride has been met mostly with a heavy workload and little to no riding.The rides I have made it to, several Tuesday/Thursdays a couple of Goodbike Wednesdays and the Tour De Felasco Have been Great! The winter night riding in Florida is amazing! The rides get good (8 to 15 people) to average turn-out and the weather is crisp and cool. On the personal side of things, life is great! The lady and I took a much need mini-vacation in celebration of the end of the holiday season, and shoved our canoe into the black waters of the Suwannee River.
The Shop is up and running smoothly. I am in the process of remodeling the mechanics area and will post pictures soon. We took receipt of our first frame from the newly re-formed Spooky Bikes. Here is what they had to say about us:
I was down in Gainesville, FL meeting up with Paul and the crew from Bikes and More, and dropping off a Kittenpaste frame for them.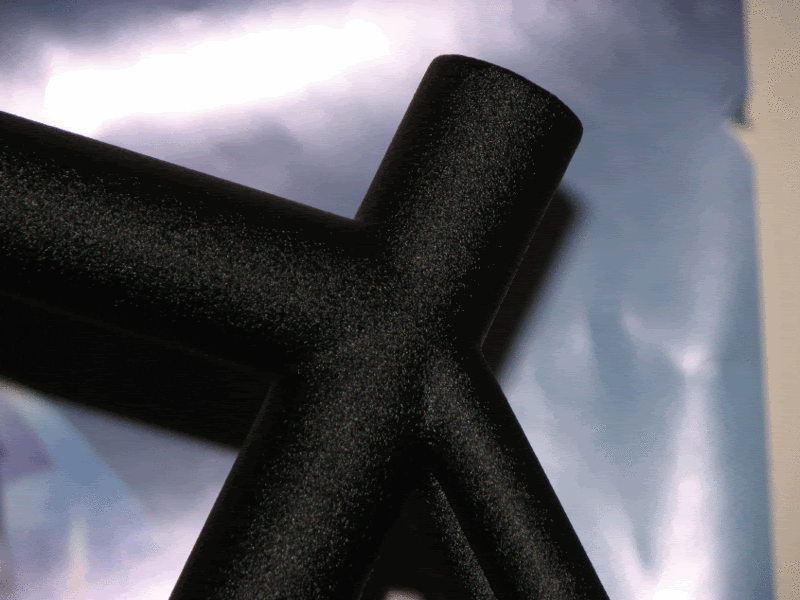 It's krinklier than you can possibly imagine.  The best way I can describe it
in person is that It reminds me of David St Hubbins' leather trousers...

And man, is it hard...

It has a ceramic coating designed to protect Soviet Kosmonauts from heat
and plasmatized bugs on re-entry...  Stain resistant, saves 40 kilojoules
an hour in wind resistance, completely corrison resistant, smells like
cranberries and absorbs all radar signals.   The only problem is that it
interferes with the transmission of wireless cycling computers and
heart-rate monitors.
That's a complete lie actually. But it is a wild combination of basecoats and a textured black powdercoat that yields a finish that is literally tough as nails.
Gainesville Florida is a hell of a town.
Bikes and More alone is full of an awesome collection of freaks, from Dan Action
the hero of knitters everywhere with his amazing wool skinsuits for the equally amazing Circle A 'cross team. I'm not going out on a limb here to say that I think Circle A out of Providence, RI is just about the coolest bike "company" ever.
From their website;
"We specialize in custom steel frames, lugged, tig welded, and fillet brazed; frame repairs and repaints; and in our spare time, smashing the state. "
To say that the bike industry needs more Circle A and less Specialized is an obvious statement.
Another notably awesome guy who part-times at Bikes and More is Steve Z.
He isn't just awesome because he has a flo-yellow Metalhead, and that he leads fast XC rides on it. He's also one hell of a machinist. I had the supreme pleasure of using one his lights to go for an amazingly fun night ride last Thursday, and to say that it's the best light I've ever used would not be misleading. It's a product that's already lighter, brighter and longer lasting than everything out there in proto-type form. Can't wait to get one for myself!
Proving what a small world it is, another employee of the shop is a UMass grad student that I regularly run into here in the valley. Guess who just signed up for Niall's frame building class!
Speaking of frame builders, Gainesville is the home of Villin.
Builder of very keen steel frames, former owner of the shop, and guy who thinks about making good bikes in a way that I find refreshing…
When I describe the overall advanced level of mtb culture in Gainesville to most people they are in disbelief. Group night rides 3 days a week year round, 50+ miles of great trails downtown, and some amazing events like last weekends Tour De Felasco, a 50 mile two loop epic singletrack funfest. Within an hour of Gainesville there is probably 200 miles of sweet singletrack. And a good place to buy a Spooky.
Thanks for the nod Mickey! For more info on Spooky Bikes, try WWW.SPOOKYBIKES.COM. After adding Spooky Bikes to the roster, we now have 7 count them SEVEN bike lines that we carry. That would be Bianchi, Raleigh, Diamondback, KHS, Villin Cycle Works, Spooky Bikes and Surly. If you need a bike we should have you covered. Speaking of covered, this first post feels like it has covered most of the goings on at the shop and you should feel good and up to date in all matters regarding the shop. In recap, Busy shop, crazy 4 months, mini-vacation, lots of bikes in stock, mechanics area being remodeled!
It's all love,
Paul